Zu-Per is an example how a women's village enterprise can be transformed,  with the right technical advice and support.
Until recently, the shrimp paste made in the village of Sungai Perlu on the Java Sea coast in Central Kalimantan had no name and was made mostly for local consumption. It was not packaged to meet national health standards and nor was it cooked to preserve it, so the paste only lasted for about a month.
The Rimba Raya Conservation programme team identified this as an exciting business opportunity resulting in an effective way to boost local incomes. The village is one of 14 that Rimba Raya supports and the programme team asked the local families that make the shrimp paste how best they could assist them.
Everyone involved saw the need to improve the paste's quality and packaging with a focus on obtaining the national health and safety certification, which they received in April of 2015 with support provided by Rimba Raya. The villagers named the paste Zu-Per, after their village and the brand name now appears on their plastic packaging.
"In the past, shrimp paste only fetched 20,000 rupiah (about US$1.50) a kg. But after we developed Zu-Per, the price has gone up to 50,000 rupiah because we have improved the quality," said Heldawaty, 34, the Sungai Perlu village chief.
"Rimba Raya has become a facilitator by inviting officials from the offices of maritime, industry and cooperative as well as health. They came to check directly. (Rimba Raya) was also involved in helping get permits from the National Agency of Drugs and Food Control," she said recently during an interview at the house in Kuala Pembuang where the paste is cooked and packaged.
Misbah, 35, who heads the group that makes the shrimp paste, also agreed the investment in transforming Zu-Per has made a big difference to the village.
"I, on behalf of people in Sungai Perlu, would like extend our big thanks to (Rimba Raya). It never occurred to us that a shrimp paste business can develop into this … that the price can be this high," she said.
SUSTAINABLE DEVELOPMENT GOALS: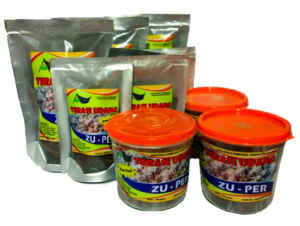 A CLOSER LOOK?
High Resolution Images and Detailed Information Are Available
Or contact us to learn how to access this information.
"This really helps our village, especially the women"
– Heldawaty, Co-Op Member –